Wednesday, March 5th, 2014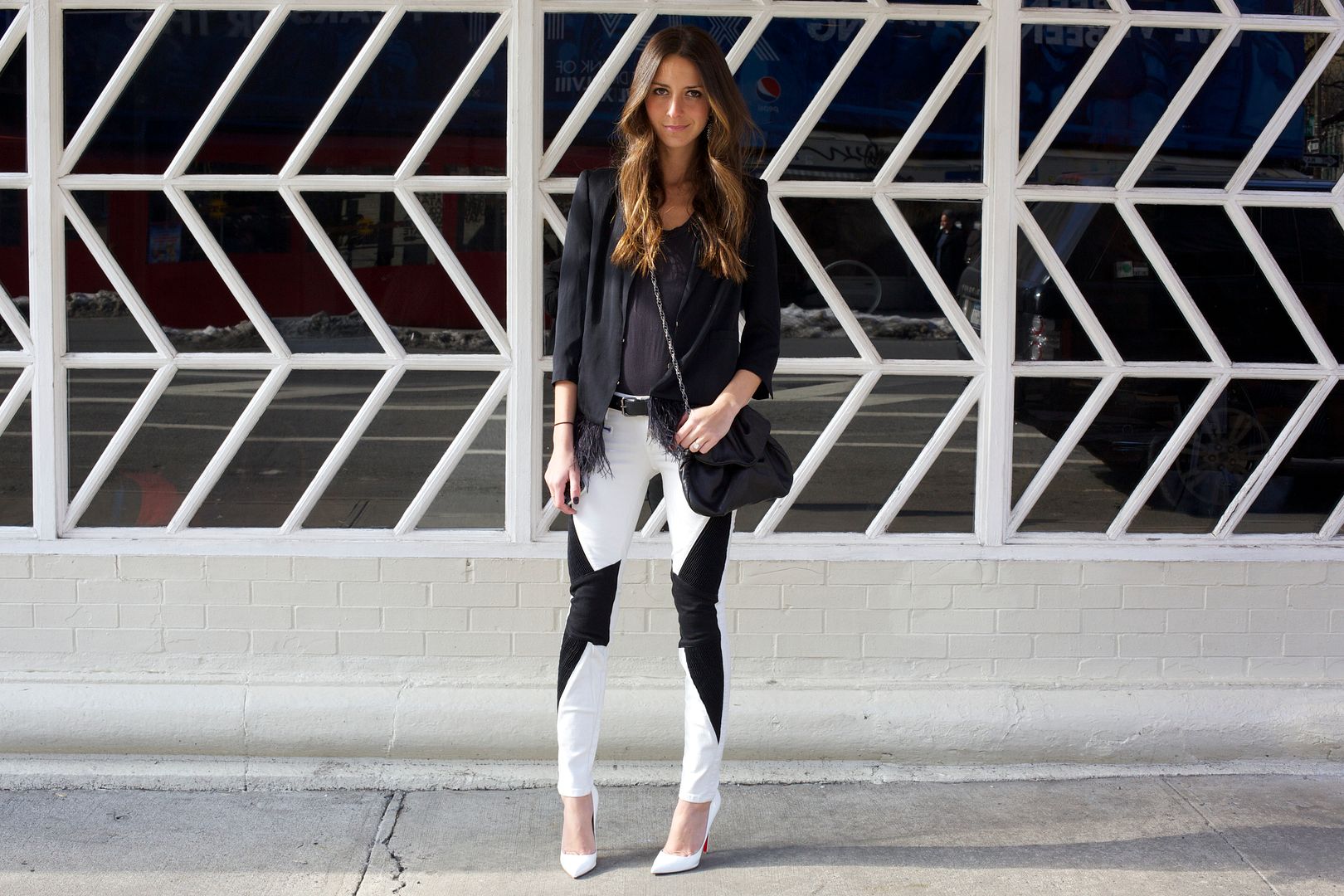 My assistant Nicole asked me a bunch of questions from a readers point of view. I get e-mails and comments regarding a lot of these questions so I felt this would be the best way to get back to everyone.
Favorite Color: At the moment, Red. If I were to choose my favorites it would be Black, Navy, Dark Green, Pale Pink and Red
Favorite Shoe Designer: Manolo Blahnik. However, if you know and follow me, you would know that that is a very difficult question for me to answer. I love a ton of designers, really depending on what I'm looking for.
Favorite Denim Brands: I have a few as I'm a major denim girl. James Jeans, Black Orchid, Genetic, Paige, Wildfox and JBrand.
Favorite Worn In Tees: LNA always makes the greatest basic tees that eventually wear in, I also love the J.CREW tee's and of course the somethingnavy tee's I'm designing that come out later this month!
Must Have Beauty Products: I love my CARGO blush, Kevyn Aucoin Mascara, Aquaphor and Keihls Face Moisturizer.
Phobias: I'm afraid of everything, it's a terrible quality. I have a huge fear of flying (no one likes flying with me), and all illnesses, hypochondria to the max.
Favorite Movie: I can't choose just one movie, but I love all horror films, even the gross gory ones like SAW and Hostel. I also love all the MARVEL films, X-MEN's, Thor, Wolverine, etc.
Favorite Food: Cheeseburger, Fries, Sour Patch Kids, Grapes, Apples, pretty much all fruit.
How many children do you want: 2-3, if I'm lucky!
Favorite Work Out Clothes: My sleep t-shirts and Lulu Lemon leggings.
How often do you work out: 3-4 times a week.
What does your typical diet consist of: Pancakes, Bagels, egg whites, lots of fruit, lots of water, chicken, pasta, whole wheat toast, sushi.
How often do you eat: I eat when I'm hungry. I am aware of what I eat and try to only put healthy into my body. I don't believe in cutting things out of your diet (unless you have to) I believe in moderation. I have three meals a day and snacks in between, mostly healthy. I think that if you are watching your weight, keep the carb intake before 12 PM.
What is your go to outfit: Black skinny jeans, a tee and pointy toe pumps or flats.
What is your favorite thing about being a blogger: Interacting with followers, being motivated constantly (but that goes with any job that you love doing) and being creative.
Biggest misconception about you: That I don't eat. It's false and silly. If you've followed me since I started 6 years ago, you'd know this has always been my weight.
Three must haves in your wardrobe: Pointy Pumps, a great pair of distressed jeans and a cool blazer.
Engagement Ring Shape: It's an Emerald cut.
How did you meet your fiance: On vacation in Cabo, Mexico.
What does your fiance do for a living: He is a lawyer and in Real Estate.
How do you budget yourself: I never ever shop unless it's for shoes. I keep all of my clothing and constantly bring old things back to life by restyling it. I budget by allowing myself a certain amount of money a week and I figure out a way to make that amount work in my lifestyle.
Which sister are you closer with: I'm close with both equally. They are my best friends but in totally different ways. They are the most special people and I don't know what I'd do without either of them.
What is your background: Half Israeli.
What is your favorite drink: Patron on the rocks with a splash of pineapple juice.
What breed is your dog: Cavalier King Charles.
Favorite kind of cuisine: Sushi!
What do you DVR: Sex and The City, Family Guy, Friends and The Bachelor.
How did you become a blogger: I decided to post my outfits on the internet 6 years ago for fun. It soon after became an industry and I dove right in!
What upsets you: How often I get stuck in a broken elevator (it's true and it's terrifying), pretentious people, liars, when my dog barks like crazy at another dog on the street, when my fiance can't pick a movie to order, enslavement of animals, being seated an hour after your reservation.
What fascinates you: Weather, space and death.
Who is your celebrity crush: Chris Hemsworth.
Where is your wedding and what is the date: It's at Fisher Island in Miami on October 18th, 2014.
Favorite quote right now: "Be with those that bring out the best in you, not the stress in you."
What's up next for you: My somethingnavy clothing line, I know I've spoken about it many times but this time it's really happening and I couldn't be more thrilled! Hope you all love it.